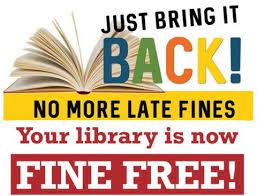 The Roachdale Public Library's Board of Trustees voted on November 28th to become a "Fine Free" library beginning December 1, 2022. Our Library Board understands that providing public access to materials, faxing, computer and wi-fi services is a necessity to our community. Our community is stronger when all members have access to the programs, services, and materials offered by the library to pursue their educational, career, life, and family goals. We hope this new fine-free policy encourages prior users to return to the library and attract new users to experience our offerings! Going fine-free allows our staff to spend less time trying to collect fees and more time serving you!
Roachdale Public Library's fine-free policy no longer charges you a daily overdue fee from our materials. As in the past, library books will automatically renew when available. Fines will still be applied to lost or damaged items from our library. Moving forward, only materials that are damaged or not returned within 28 days (with no reneals remaining) will be charged to our patrons, but when that item is returned the fee will be removed.  If you have overdue fines from other libraries in the Evergreen Indiana consortium, you are still responsible for paying these.
As of December 1st, the Board of Trustees has removed outstanding overdue fees. Go ahead – check your account: Evergreen Online Catalog. Your will need to enter your full barcode; your password is the last 4 digits of your CARD number.
Still see a fine? Call us at 522-1491 or e-mail roachdalepubliclibrary@gmail.com. We can check to see the status of your account and update your information! Past replacement fees for lost or damaged items still apply on materials from Roachdale Public Library, or the bill may be from another library. In many cases, if the item was from our library and lost or damaged, part of the fine shown may be waived when you pay to replace the item!