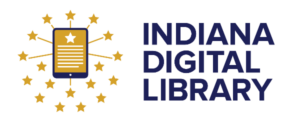 The Roachdale-Franklin Township Public Library, as well as the Putnam County Public Library (and nearly 200 other Indiana public libraries) are part of a digital consortia, Indiana Digital Library.
How do you get started??
You will need your Roachdale Public Library card number and PIN (the last 4 numbers of your library card – contact us if you need it reset). We are using the same platform as the Putnam County Public Library, so if you are not a Roachdale/Franklin Township resident, you can STILL use the service. You'll just need your Putnam County Library card number and PIN (the last 4 digits of your phone number).
Now even EASIER to access – download the  app : Meet Libby!
 (Available for Apple, Google Play, and Microsoft)

Indiana Digital Library –  Your e-book home
E-books for toddlers & preschoolers?????            
For parents and grandparents who utilize phones or tablets with their young ones, Indiana Digital Library does offer options for FREE books and streamed videos. Narrated books are one option – the text is highlighted as the book is read out loud. There are a variety of favorite characters ( Clifford, Dora, Paw Patrol, Bubble Guppies) in addition to favorite classic stories. Streamed films include cartoons (Inspector Gadget),  book characters (Madeline), and TV episodes (Sid the Science Kid).
If you are planning to utilize Indiana Digital for toddlers or preschoolers, we recommend getting a library card for the child, as you will have 5 check-outs at a time. You are also able to control what your child is able to see using parental controls or using the kids' room entry. Take a look at some offerings here:   OverDrive – Get started!   
If you have requests for e-books or specific characters, please send Jennifer an e-mail at roachdalepubliclibrary@gmail.com.